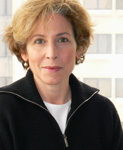 Hana Iverson, Director

Hana Iverson is a media artist with a conceptual grounding in photography and portable/wearable media, with a focus on networked communities and wireless technologies. In her public art practice and her education initiative, Neighborhood Narratives, she employs the neighborhood as social practice to explore questions about place, embodiment, and social engagement inside of mobile and other alternative forms of distribution. Iverson approaches the education environment as a communications network, situating conventional disciplines of media and art production within structures of social exchange. An important aspect of this model is its position both inside and outside of the academy and the extension of the classroom to the city, locally and internationally, via social computing and physical interfaces. The Neighborhood Narratives Project has been hosted at Temple University, New York University, Rutgers, The State University of New Jersey-New Brunswick and Dexel University and networked between New York, Philadelphia, London, Rome and Tokyo. Iverson's media works have been widely exhibited across North American and in Europe and she has been a keynote speaker, guest artist and/or lecturer at several international conferences as well as authored and co-authored several chapters and articles on Locative Media. She is a Senior Fellow with the Center for Creative Research, New York University and former director of the New Media Interdisciplinary Concentration at the School of Communications and Theater, Temple University. Iverson holds a Master's Degree from the Interactive Telecommunications Program at Tisch School of the Arts, New York University.
The Center for Creative Research, Collaborative Partners

| | | |
| --- | --- | --- |
| | | |
| Eiko Otake | | Ralph Lemon |
The Center for Creative Research (CCR) is a multi-year pilot project, funded by the Andrew W. Mellon Foundation and administered by the New England Foundation for the Arts (NEFA), designed to create and implement, innovative long-term strategies for artist-university interaction that complement existing models. The Center is currently made up of 11 Founding Fellows (Ann Carlson, Pat Graney, David Gordon, Margaret Jenkins, Bebe Miller, Ralph Lemon, Liz Lerman, Eiko Otake, Dana Reitz, Elizabeth Streb and Jawole Willa Jo Zollar); Artist-in-Residence, Ain Gordon; Project Director, Dana Whitco; and Senior Advisor, Sam Miller, President of Leveraging Investments in Creativity (LINC).

Craig Kapp, technology collaborator, CEO Zooburst
http://blog.craigkapp.com/


Craig Kapp is an interactive developer who has spent over ten years working to bring cutting edge digital technologies into a wide range of educational settings. He currently serves as a visiting clinical Assistant Professor of Computer Science at the Courant Institute of Mathematical Sciences at New York University. He also recently founded ZooBurst LLC, a web-based startup that focuses on bringing augmented reality digital storytelling tools into classrooms around the world.

Steve Bull, Guest Artist/Instructor
http://stevebull.org/













Steve Bull is a mixed media technology artist whose practice includes writing computer code, rewriting historical narratives, recording audio interviews, and shooting video to create new location specific experiences delivered via cell phones. Bull has been collaborating with the New-York Historical Society to create a series of cell phone tours of Lower Manhattan in support of their ongoing "Slavery in New York" exhibits. The cell phone tours for Slavery in New York, were honored as part of the 2008 Outstanding Public History Project Award from the National Council on Public History, and were included in the 2007 top ten museum podcasts. In 2008, Harvestworks/NYSCA commissioned the concert Cellphonia: Tempo Variabile for Experiments in Art and Technology (E.A.T) at Stevens Institute of Technology. In addition, Target has recruited Bull to create the interactive multi-media effects for the Teen Vogue Fashion event at the Hudson Theater on Broadway. In 2005, he produced the still and video design for Wet, a multi-media chamber opera that premiered at the Roy and Edna Disney/CalArts Theater (REDCAT). His single channel videos have been exhibited at the Getty, the Museum of Modern Art, PBS New TV series, the Kitchen, American Film Institute, Mill Valley Film Festival, Berlin Video Festival, Columbus Film Festival, Bucks County Film Festival, Cork Film Festival, Cleveland Film Festival, a ten-city tour in Brazil, and Creative Time on 42nd Street. He received the New York State Council for the Arts grant for Cellphonia: In The News.

Advisory Board

Ilaria Vanni Accarigi, PhD. Head of the Cultural Studies Academic Group and Lecturer, Institute for International Studies; University of Technology, Sydney.

Wayne Ashley, PhD. independent curator, producer, and consultant working at the intersection of media, technology, and performance.

Laura Collini, PhD. Marie Curie Research Fellow, MediaCity Project, Bauhaus University-Weimar, Germany.

Mary Hawkesworth, PhD. Professor of Women's and Gender Studies, Senior Scholar at the Center for American Women and Politics at Rutgers University. Editor of Signs: Journal of Women in Culture and Society, 2005-2010.

Rob Kitchin, PhD. Professor of Geography, National University of Maynouth, Ireland; Director of the Institute for Spatial Analysis; Editor, Social and Cultural Geography.

Ferris Olin, PhD. Director, the Margery Somers Foster Center of the Rutgers University Libraries; Co-Director, The Institute for Women and Art.

Rickie Sanders, PhD. Professor of Geography, Temple University

Morris Vogel, PhD. President, The Tenement Museum, New York City.